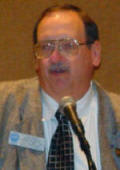 Welcome to our Missouri JCI Senate web page. For the 2014-2015 year our theme is Carpe Diem and it was chosen after I saw several quotes that reminded of the need to enjoy what we do with one another and with the Jaycees. As Senators we have been granted the highest recognition that a Jaycee chapter can give a member. This year, I believe it is important that Senators enjoy the companionship of one another and enjoy the time we have assisting the Jaycees locally and at the state level. There are many things that the Senate is doing to assist the Jaycees including at Access Day at the Fair, Wonderland Camp, and many local projects around the state.
Senators would not continue to do the things they do if they did not enjoy what they have done and received from the Jaycee organization. Within the Senate organization there are numerous chances to enjoy the fellowship of other Senators from socials to meetings to local chapter activities. One of the ways there is opportunity to give back to our organization and our state is to support the Senate Scholarship program. For several years the Missouri JCI Senate has awarded scholarships from its annual budget, but last year a Foundation was established so there would be funding continually available to grant high school seniors money for further education. One of those scholarships has been for a high school senior with a Jaycee background.
In addition to the above, other activities the Senate remains active in is fundraising for Wonderland Camp and Access Day at the Fair. Every Super Bowl Sunday, fundraisers are run for both of those programs. While these programs are run to raise money, it is a great opportunity to enjoy the fellowship of Senators and Jaycees that attend the projects.
As that great philosopher Marilyn Monroe stated, "We should all start to live before we get too old. Fear is stupid. So are regrets." Let us go out and enjoy the time we have together and with the Jaycees.
CARPE DIEM!
Tom Hendrix #37317
President – 2014-2015
Missouri JCI Senate